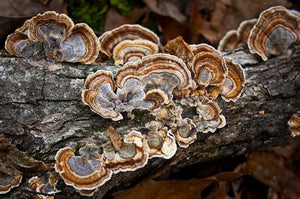 Pete and Anita's Turkey Tail tincture, Trametes versicolor.
Regular price
Sale price
$13.00
Tax included.
Shipping
calculated at checkout.
---
Harvested Glantwymyn, Machynlleth, Wales
Dual extract
30% organic alcohol extraction
70% hot-water extraction
dose 2 - 5 mls daily in water
Uses
Like many medicinal mushrooms, Turkey Tail contains various polysaccharides, one inparticular is polysaccharide K (PSK) which has been extracted and isolated from Turkey Tail. Preliminary research indicates that PSK has anticancer activity and may also inhibit various cancer onset mechanisms). It is also thought to protect healthy cells from radiotherapy so aids the function of cancer treatments.
Human trials using Turkey Tail as an adjuvant for conventional cancer treatments suggest that PSK may lessen cancer recurrence rates and improve survival time. Particularly in stomach and colorectal cancers.
PSK has a stimulating effect on the immune system, encouraging the body to produce more immune cells that attack foreign and abnormal cells (cancer) therefore, suppressing the growth of tumours. PSK is deemed to be very well tolerated in human trials with very few side effects.
In traditional western herbal medicine, Turkey tail is used for its benefits to the immune system. It is specifically useful in post viral fatigue and for those people who are prone to infections. It can be taken regularly throughout the winter months to keep immune function in tip top condition, preventing the occurrence of coughs, cold and flu.
Scientific studies show that turkey tail works by stimulating the immune system, however, the holistic view of this medicinal mushroom (and many others) is that they have a 'adaptogenic' effect acting to balance the immune system.
References:
https://www.ncbi.nlm.nih.gov/pubmed/14997197
https://www.ncbi.nlm.nih.gov/pubmed/12168863
https://www.ncbi.nlm.nih.gov/pubmed/1735313
from this great website www.handmadeapothecary.co.uk